06.10.21
In The News
MCI Leads Alberta's First Zero-Emission Motorcoach Demonstration
Published by National Bus Trader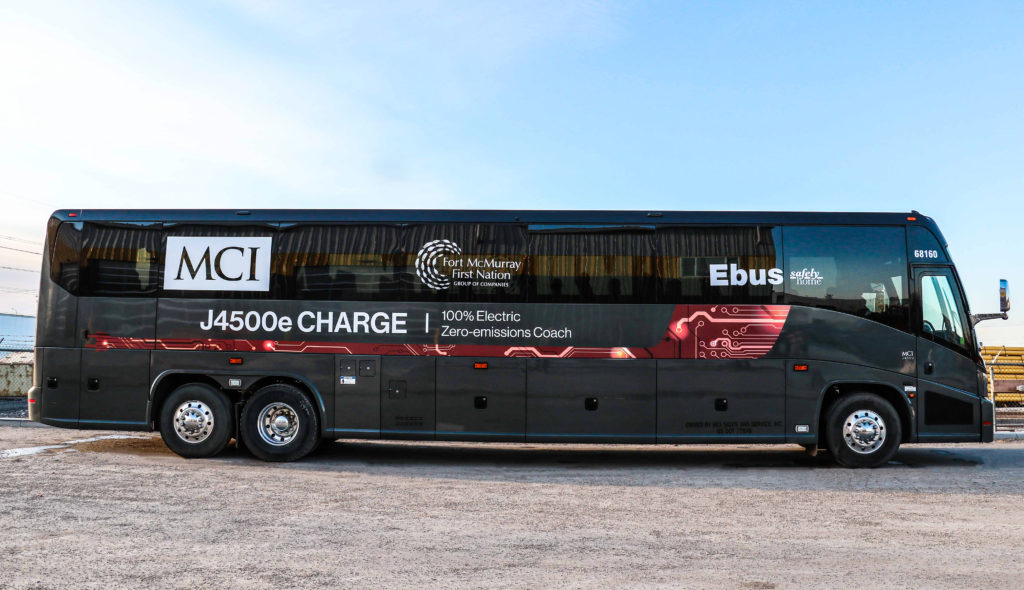 In March, MCI and Ebus (a division of the Pacific Western Group of Companies) successfully demonstrated MCI's battery-electric J4500 CHARGE™ in Alberta. The coach was shown in Calgary and Fort Murray, leveraging zero-emission vehicle technology from New Flyer and delivering range up to 200 miles on a single charge.
Diversified Transportation, in partnership with Motor Coach Industries (MCI), a subsidiary of NFI Group Inc. (NFI), and Fort McMurray First Nation Group of Companies, demonstrated a 100 percent battery-electric motorcoach in varying settings in the Wood Buffalo region from March 2 through March 14, 2021.
This was the first time a zero-emissions motorcoach – a 45-foot, battery-electric MCI J4500 CHARGE™ – was be on the road in Alberta, and the first time in Canada that it was utilized for employee site transportation.
The 56-passenger MCI J4500 CHARGE™ leverages electric vehicle technology from New Flyer, another NFI subsidiary, and is equipped with 544 kWh of heavy-duty lithium ion batteries, delivering a range of up to 200 miles on a single charge.
Some of the features of the MCI J4500 CHARGE™ include:
• 72 miles per hour, designed for highway applications
• Average range of 200 miles
• Charges to full in under four hours
• Regenerative braking using kinetic energy to recharge the battery system, making for highly efficient driving stop-start traffic conditions.
"Diversified Transportation is excited to partner with MCI to provide our customers and passengers with the opportunity to experience the energy of a 100 percent electric, zero-emissions motorcoach.
Compared to cars, trains and airplanes, motorcoach travel is the most sustainable form of passenger transportation and with the introduction of a 100 percent battery-electric option we can further reduce our carbon footprint," said Tim Lindsay, Vice President of Diversified Transportation.
The MCI team, and those across the entire NFI Group family, remains committed to sustainable mobility and showcasing this technology in collaboration with our customers. Our zero-emissions J4500 CHARGE™ motor coach performed well by delivering clean, safe, quiet transportation powered with battery-electric technology. Together with our sister brands, NFI offers the widest range of zero-emissions buses and coaches in North America, and provides leading infrastructure support through New Flyer Infrastructure Solutions," said Brent Maitland, MCI's Vice President of Private Sector Sales and Marketing.