12.15.22
Press Releases
NFI introduces next generation D4020 Inmate Security Transportation Vehicle
NFI's more efficient, secure, and reliable D4020 Inmate Security Transportation Vehicle delivers enhanced operation and security features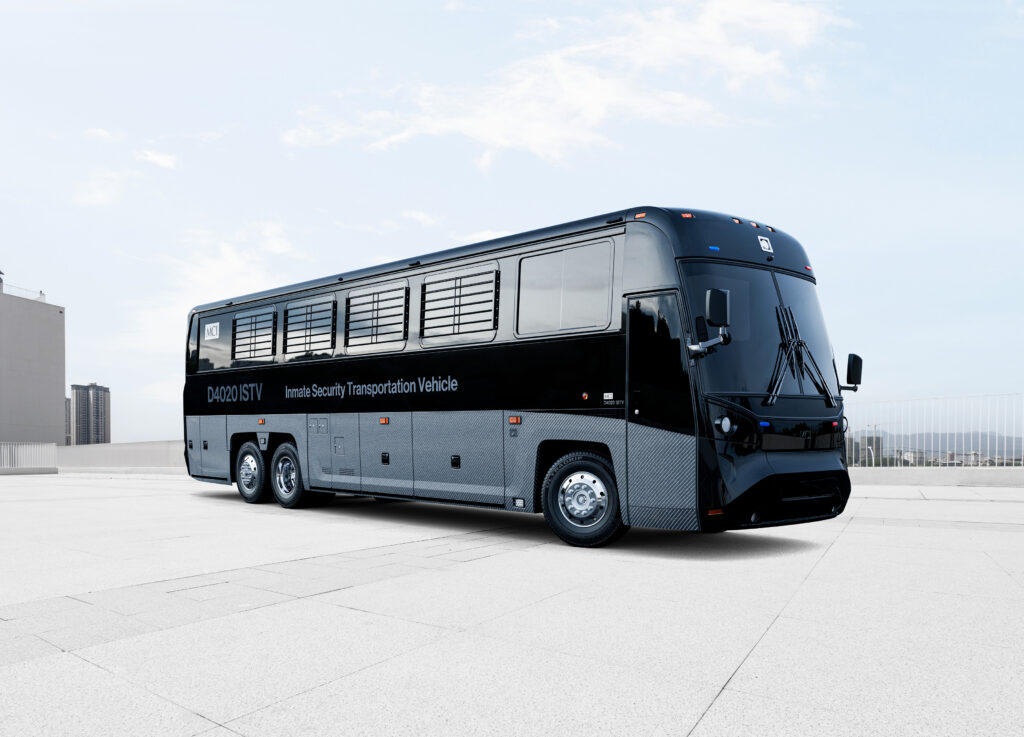 Des Plaines, Illinois, USA – December 15, 2022: (TSX: NFI, OTC: NFYEF, TSX: NFI.DB) NFI Group Inc. ("NFI"), a leading independent bus and coach manufacturer and leader in electric mass mobility solutions, today announced that its subsidiary Motor Coach Industries ("MCI") has unveiled its new D4020 Inmate Security Transportation Vehicle ("ISTV"), the next generation inmate transport vehicle for federal, state and county law enforcement agencies.
Built on MCI's modernized, next generation D Series platform, the D4020 ISTV is an evolution of the D4000 ISTV model, retaining its rugged design and offering enhanced operation and safety features. Drawing upon more than 30 years of experience producing ISTVs, MCI has applied the best of the D Series platform design and a modern approach to inmate transportation to deliver a more efficient, durable, secure, and easier-to-operate D4020 ISTV.
"Building the D4020 ISTV on our new D Series platform not only enables us to offer a more efficient, more durable and modernized coach, it also allows us to increase our offering of advanced safety and security features to help keep officers safe, sound, and secure," said Chris Stoddart, President, North American Bus and Coach, NFI. "The new design also enhances coach operation and reduces maintenance while maintaining quality, reliability, and comfort at highway speeds."
Developed through MCI's long-standing collaboration with North American law enforcement agencies, the D4020 ISTV incorporates enhanced security features, including center-mounted ceiling lights providing additional lighting when cell partitions are utilized; emergency lighting using efficient, high-output LED technology that matches modern law enforcement lighting; and exterior overhead lighting around the coach perimeter providing additional security for loading and unloading of inmates.
"With the D4020 ISTV, MCI continues developing and advancing its market-leading vehicle lineup to support public sector operations and law enforcement agencies across North America," said Jennifer McNeill, Vice President of Public Sector Sales and Marketing, New Flyer and MCI. "Designing the D4020 ISTV on the D Series platform, a robust vehicle architecture, allows us to have both common production processes for consistent quality and vehicle designs, resulting in consistent training, parts, and service support on key vehicle systems."
Engineered on a proven track-tested chassis, the D4020 ISTV offers long-time durability and increased serviceability. It uses a sturdy, stainless-steel frame that provides dependable, long-term structural integrity; composite exterior body panels for improved durability and corrosion resistance; a seamless aluminum roof panel for enhanced water resistance; unitized wheel ends lending increased reliability and improved maintainability; and internal components that are more accessible for service and preventative maintenance.
In addition, as compared to the original D4000 ISTV model, the D4020 ISTV offers exceptional operator experience through in-motion high-rise and low-rise capabilities at speeds of up to 20 mph for significantly improved approach and departure angles, a 21% tighter turning radius for easier maneuvering through tight areas such as prison yards, and a wider entryway for easier loading and unloading of inmates. Drivers will experience a more comfortable ride with an ergonomically designed driver's area featuring easier-to-read gauges, intuitive controls within reach, and improved sight lines.
MCI remains the only manufacturer in North America to provide tailored, durable, turn-key heavy-duty ISTV coaches. The D4020 ISTV has additional options for customization, including bullet-resistant materials and a 360-degree birds-eye-view camera system that monitors activity around the coach and makes it easier to maneuver through tight spaces.
All MCI coaches, including both the previous D4000 ISTV and the new D4020 ISTV, are backed by MCI support services, including in-field expertise, a technical call center, and 24/7 roadside assistance; ongoing technical training from the industry's only Automotive Service Excellence (ASE) accredited MCI Academy technician training center; parts support from NFI Parts™, the industry's largest parts supplier; MCI Service Centers; and finally, on-the-go support with the MCI Operators App and MCI Companion App. To learn more about the D4020 ISTV, visit mcicoach.com/d-series.
Today, NFI supports growing North American cities with scalable, clean, and sustainable mobility solutions through a four-pillar approach that includes buses and coaches, technology, infrastructure, and workforce development. NFI also operates the Vehicle Innovation Center ("VIC"), the first and only innovation lab of its kind dedicated to advancing bus and coach technology and providing workforce development. Since opening in late 2017, the VIC has hosted over 300 interactive events, welcoming 5,000 industry professionals for EV and infrastructure training.
About NFI
Leveraging 450 years of combined experience, NFI is leading the electrification of mass mobility around the world. With zero-emission buses and coaches, infrastructure, and technology, NFI meets today's urban demands for scalable smart mobility solutions. Together, NFI is enabling more livable cities through connected, clean, and sustainable transportation.
With 7,500 team members in nine countries, NFI is a leading global bus manufacturer of mass mobility solutions under the brands New Flyer® (heavy-duty transit buses), MCI® (motor coaches), Alexander Dennis Limited (single and double-deck buses), Plaxton (motor coaches), ARBOC® (low-floor cutaway and medium-duty buses), and NFI Parts™. NFI currently offers the widest range of sustainable drive systems available, including zero-emission electric (trolley, battery, and fuel cell), natural gas, electric hybrid, and clean diesel. In total, NFI supports its installed base of over 105,000 buses and coaches around the world. The Shares are traded on the Toronto Stock Exchange under the symbol NFI and NFI's convertible unsecured debentures trade on the Toronto Stock Exchange under the symbol NFI.DB. News and information is available at www.nfigroup.com, www.newflyer.com, www.mcicoach.com, www.nfi.parts, www.alexander-dennis.com, www.arbocsv.com, and www.carfaircomposites.com.
About MCI
MCI is North America's public and private market motor coach leader. Products include the luxury J Series (an industry best-seller for over a decade), the workhorse D Series, and the brand new zero-emission luxury and commuter coaches: the battery-electric J4500 CHARGE™, D45 CRT CHARGE™ and MCI D45 CRT LE CHARGE™. MCI also provides maintenance, repair, 24-hour roadside assistance, parts, and technician training through the industry's only Automotive Service Excellence ("ASE") accredited and award-winning MCI Academy.
Forward-Looking Statement
This press release may contain forward-looking statements relating to expected future events and financial and operating results of the NFI Group that involve risks and uncertainties. Although the forward-looking statements contained in this press release are based upon what management believes to be reasonable assumptions, investors cannot be assured that actual results will be consistent with these forward-looking statements, and the differences may be material. Actual results may differ materially from management expectations as projected in such forward-looking statements for a variety of reasons, including those risks and uncertainties discussed in the materials filed with the Canadian securities regulatory authorities and available on SEDAR at www.sedar.com. Due to the potential impact of these factors, NFI Group disclaims any intention or obligation to update or revise any forward-looking statements, whether as a result of new information, future events or otherwise, unless required by applicable law.
For media inquiries, please contact:
Amanda Wanke
P: 515.474.1704
[email protected]
For investor inquiries, please contact:
Stephen King
P: 204.224.6382
[email protected]