05.18.21
In The News
NFI group: the fourth e-bus launch in 2021. MCI unveils the electric commuter coach D45 CRT LE CHARGE
Published by Sustainable Bus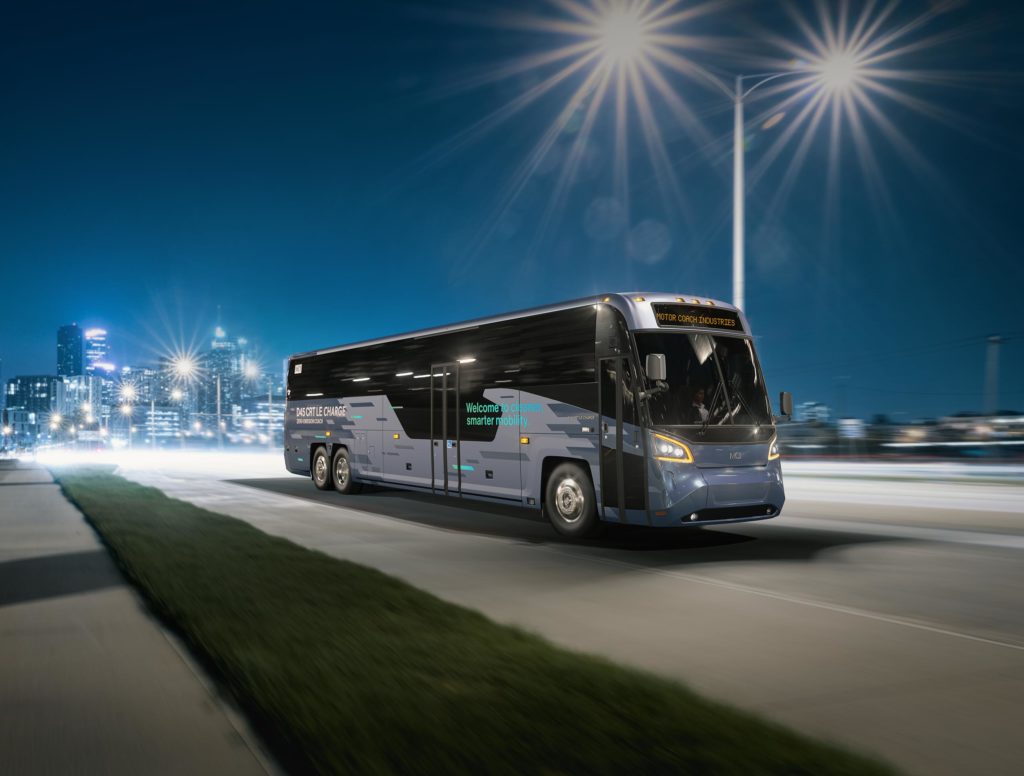 The MCI D45 CRT LE CHARGE represents the second electric coach launch in a few weeks by NFI's subsidiary Motor Coach Industries. The model is also the fourth e-bus launch in 2021 by New Flyer Industries group, to which MCI belongs.
Alongside the D45 CRT LE CHARGE launch, MCI introduced the new D series, i.e. the next generation of MCI's commuter vehicle.
"With the D45 CRT LE CHARGE marking our fourth EV introduced in 2021, NFI is undeniably leading electrification of mass mobility – the ZEvolution. The new battery-electric D45 CRT LE CHARGE follows MCI's introduction of the J4500 CHARGE, New Flyer's Xcelsior CHARGE NG, and ARBOC's Equess CHARGE – all leveraging shared EV technology. Together, NFI's market-leading portfolio is enabling scalable zero-emission deployment across North America." – Paul Soubry, President and Chief Executive Officer, NFI.
The battery-electric D45 CRT LE CHARGETM harnesses three major innovations, MCI points out. It exhibits design advancements of the next generation D series, introduces MCI's innovative low entry vestibule, and integrates CHARGE technology propulsion from New Flyer.
The MCI D45 CRT LE CHARGE features regenerative braking and next-generation, high-energy batteries with a maximum capacity of 544 kWh (available also in 389kWh version).
MCI, with the D45 CRT LE CHARGE comes the new D series
The new D series, inaugurated by the MCI D45 CRT LE CHARGE, incorporates common systems and production, a stainless steel frame, and modern styling, including improved cabin space and legroom, reduced cabin noise, a curved stepwell for easier entry and more ergonomic driver cockpit, and improved ride quality.
"We designed the zero-emission D45 CRT LE CHARGE with accessibility and passenger experience top of mind, and delivered on unprecedented ease of entry and exit with a patented low entry vestibule, a seating area and ramp that significantly improves dwell time, and improvements in the ride experience for passengers with mobility needs," said Chris Stoddart, President, New Flyer and MCI. "Whether your goal is emissions reduction, lower operational costs, or to expand commuter express service, this coach delivers one of the safest, most comfortable, sustainable, and flexible mobility solutions available".