05.14.21
In The News
MCI Launches New D Series, Unveils Battery-Electric Commuter Coach
Published by Bus News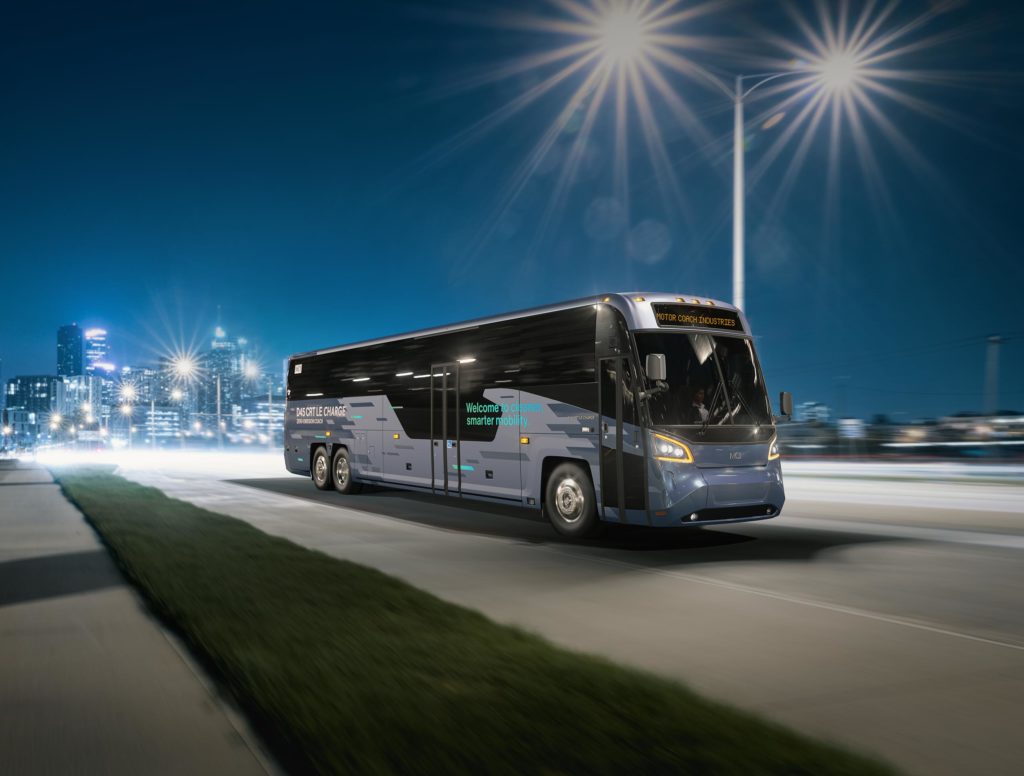 MCI Launches New D Series and Unveils Battery-Electric Zero-Emission Commuter Coach: The D45 CRT LE CHARGE™.
NFI Group Inc. ("NFI" or the "Company"), a leading independent bus and coach manufacturer and a leader in electric mass mobility solutions, has announced that subsidiary Motor Coach Industries ("MCI") has unveiled its new zero-emission commuter coach, the D45 CRT LE CHARGE™, and also launched its new D series of coaches.
Leveraging high-torque electric drive systems for operation at highway speeds and plug-in battery charging to 100 percent in less than three hours, the battery-electric D45 CRT LE CHARGE™ builds on MCI's legacy of reliable mobility and harnesses three major innovations. It exhibits design advancements of the next generation D series, introduces MCI's innovative low entry vestibule, and integrates proven CHARGE technology propulsion from New Flyer.
President and Chief Executive Officer of NFI, Paul Soubry, said:
"With the D45 CRT LE CHARGE marking our fourth EV introduced in 2021, NFI is undeniably leading electrification of mass mobility – the ZEvolution. The new battery-electric D45 CRT LE CHARGE follows MCI's introduction of the J4500 CHARGE, New Flyer's Xcelsior CHARGE NG, and ARBOC's Equess CHARGE – all leveraging shared EV technology. Together, NFI's market-leading portfolio is enabling scalable zero-emission deployment across North America."
The fully-accessible MCI D45 CRT LE CHARGE™ is a high-performance electric coach leveraging enhanced regenerative braking and next-generation, high-energy batteries that deliver over 170 miles of range in the 389kWh model, and over 230 miles in the 544 kWh model. To learn more, visit mcicoach.com/electric.