02.17.22
In The News
Universal Coach Line first in Canada to order MCI battery-electric coach
Published by Bus & Motorcoach News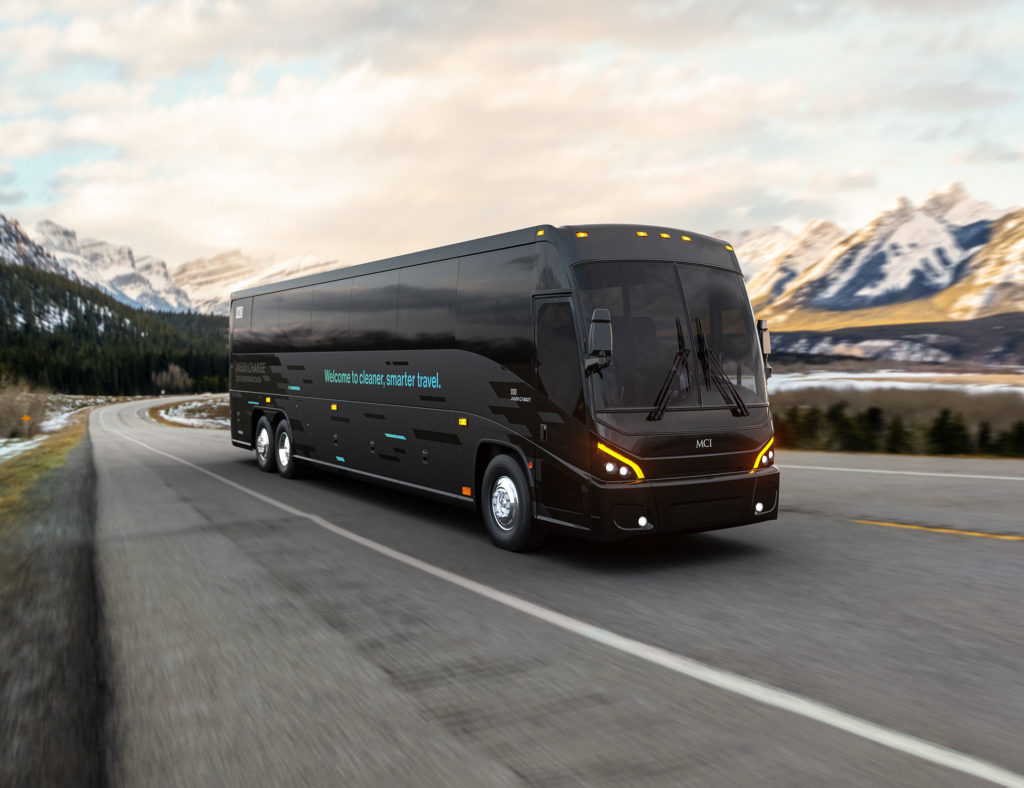 Universal Coach Line is the first company in Canada to purchase MCI's first long-distance, battery-electric motorcoach.
The order of the MCI J4500 CHARGE is supported by provincial grants and sales tax rebates. Introduced in May 2021, the 45-foot coach is a zero-emission version of the industry's best-selling J series tour and charter luxury coaches.
The coach leverages EV technology from NFI subsidiary New Flyer and delivers up to 230 miles of range, while also delivering enhanced safety features.
Serving over 500,000 passengers annually, Universal is one of Canada's largest privately held providers of over-the-road bus and motorcoach tour and charter transport, including commuter express and employee shuttle service to Vancouver and surrounding areas.
Efficient, high-performance vehicle
Based in Richmond, British Columbia, Universal currently operates MCI J4500 clean diesel coaches and made the shift to zero-emission following a J4500 CHARGE demonstration earlier this year.
"Universal is a veteran operator and longtime partner of MCI, and together we are creating a zero-emission future for coach travel across Canada," Paul Soubry, President and Chief Executive Officer for NFI, said in a statement. "We look forward to supporting the expansion of commuter express service and remobilization of charter service with our J4500 CHARGE – which was made for high performance through unmatched design and exceptional passenger experience."
Universal will use its new electric coach in employee shuttle service and on local tour and charter trips. Earlier in 2021, Universal Coach Line completed a demonstration with the MCI J4500 CHARGE – including a cleaner, quieter passenger experience.
"Passengers could easily be heard in conversation, which will make it easier to work and relax onboard," said Lindsay Moir, Vice President of Universal Coach Line. "We are thrilled to be the first in Canada to offer passengers an improved, quiet ride, and to offer game-changing zero-emission technology in a tour coach."
Part of regional effort
Universal's transition to battery-electric mobility fulfills its pledge as a member of West Coast Electric Fleets, a network of public and private EV operators from California to British Columbia pursuing a mandate to accelerate a low-carbon economy on the West Coast. Universal also supports and has leveraged British Columbia's CleanBC Go Electric program, which accelerates the adoption of zero-emission vehicles in British Columbia.
"We are proud to pursue this zero-emission milestone alongside Universal Coach Line, while delivering the same uncompromising design and quality from MCI," said Brent Maitland, Vice President of Private Sector Sales and Marketing for MCI. "With plug-in depot charging in under four hours and an expected range of 370 kilometers (230 miles), our electric coach is a proven performer in tough road and weather conditions. We look forward to building our zero-emission fleet with Universal in the future through continued support, service, and training."
Unveiled in 2021, MCI's J4500 CHARGE incorporates advanced technology to power its high performance, including optimized battery placement for weight distribution and handling; enhanced regeneration for energy recovery and greater efficiency; exceptional torque and gradeability for smoother, more powerful operation; and next-generation high-energy batteries.
The MCI J4500 CHARGE continues to deliver on the MCI bestselling model's best-in-class legroom, dramatic lighting and passenger comfort features throughout the cabin. The 56-seat model also features Advanced Driver Assistance Systems technology.
NFI has electric vehicles operating or on order in more than 80 cities in five countries. NFI offers the widest range of zero-emission battery and fuel cell-electric buses and coaches, and its vehicles have completed over 50 million EV service miles.