03.31.22
In The News
Reviewing UMA Expo 2022
Published by National Bus Trader Magazine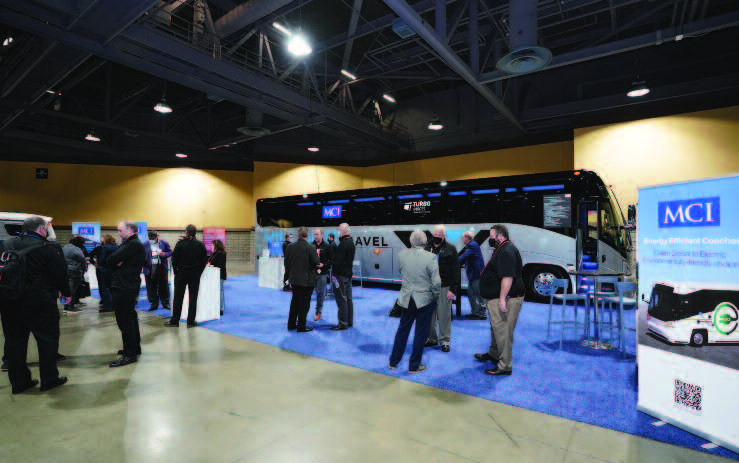 This year at the UMA Motorcoach EXPO in Long Beach, California from February 23-26, things seemed different, more energized. "The energy is really good this year," EXPO Committee Chair Scott Riccio, owner of Northeast Charter & Tour Co. in Lewiston, Maine, said during the event. "EXPO gives us the opportunity to show we're still alive and well."
"The industry has been completely changed by COVID," UMA's President and CEO Scott Michael said. The number of motorcoach operators has declined from nearly 3,000 in 2019 to fewer than 1,500 at the end of 2021, he said, so "you are the survivors." Michael said that a month before EXPO, there were concerns that attendance would be extremely low. "But in the last three weeks, we were flooded with registrations," he said. "We got hundreds more than last year, much more than we expected."
This year's attendance was up significantly over last year in Orlando when many were still concerned about travel and being in large groups. From illuminating education to next-generation technology and equipment in action, UMA Motorcoach EXPO 2022 allowed registrants to see what is coming — and take advantage of what they learned for years to come. EXPO 2022 provided many opportunities to make new contacts, discover cutting-edge solutions and learn the latest trends to give operators a leg up on the competition.

The theme of this year 's EXPO was "reconnecting," and people did just that. Operators, bus manufacturers and vendors from around the country and world got to catch up with each other face-to-face during education sessions, at the various social events and meals, and, of course, on the show floor.

"The attendance is great, almost double last year's," said David Moody, general manager of Holiday Companies in Randleman, North Carolina, who took over as chairman of the UMA Board of Directors after EXPO. "Everybody is on the cusp of returning to normal. I think we will be back to normal next fall as long as we can get enough staff. It's a wait-and-see game."

Here is a brief overview day by day:
DAY 1 – Wednesday, February 23, 2022
Michael welcomes everyone to UMA Motorcoach EXPO. The first day began with registration and the UMA State Summit, sponsored by VB Marketing Group. Theevening was capped off by the UMA Welcome Reception, sponsored by National Interstate Insurance. The gathering included a live version of "Buses and Beer," the once-weekly call that kept many in the industry connected and supported during the pandemic. Host Jeff Goldwasser asked his trademark "category" questions, but this time UMA operators were treated to prizes supplied by UMA vendors.

DAY 2 – Thursday, February 24, 2022
The second day focused on educational sessions to give attendees ideas for growing their business. The UMA EXPO Opening Session featured a legislative and regulatory update with Becky Weber of Prime Policy and UMA's Ken Presley, moderated by Alan Thrasher, chairman of the UMA Legislative and Regulator Committee and president of Thrasher Brothers Trailways. They spoke about the COVID relief programs. Later, in early March, UMA would learn that House Leadership in Congress jettisoned all proposed COVID relief programs including a small business package that included additional relief for motorcoach companies through a CERTS refill. "It is clear Congress is finished with COVID relief funding," said UMA's Presley. "Even President Biden's request for additional funding for vaccines and testing were rejected." We remain hopeful the CERTS tax exemption can pass later, he said. The lunchtime event was sponsored by RLI Transportation. In the afternoon, the maintenance Interchange was held as well as sessions on a variety of topics, from best safety practices to DOT training. The day ended with UMA members attending the Exhibit Hall Sneak Preview sponsored by Monochem, and the Sneak Preview After-Party at the museum of Latin American art, hosted by Prevost.

DAY 3 – Friday, February 25, 2022
The day began with the UMA International Driver Competition, sponsored by Prevost and Lancer Insurance Co., followed by the maintenance Competition, sponsored by ABC Companies. "Antarctic" Mike Pierce gave the keynote address during the UMA General Session. Attendees gathered under the California sunshine for lunch catered by In-N-Out Burger, a California favorite, Catering Food Trucks and sponsored by Motor Coach Industries (MCI). The evening ended with a UMA member appreciation Dinner, sponsored by TEMSA, where the winners of both competitions were announced. Adriana M. Hemzack, of Icomera; UMA Chairman David moody, of Holiday Tours Inc.; Temsa CEO Tolga Kaan Doğancıoğlu; and Richard Young, of motor Coach Industries, shared their highlights.

DAY 4 – Saturday, February 26, 2022
The EXPO wrapped up with one last morning for UMA members to connect with vendors in the Exhibit Hall. UMA ended the conference by announcing next year's EXPO will be January 12-16 in Orlando, Florida. The UMA Board of Directors also held their annual meeting just after the UMA Motorcoach EXPO hall closed.
MCI
Motor Coach Industries (MCI) showcased its latest clean-diesel model J4500 top-selling luxury motorcoach at the UMA 2022 Motorcoach Expo in Long Beach, California, connecting with customers, suppliers and industry partners. The booth was staffed by representation from NFI and MCI senior management and its MCI customer support functions, including new and pre-owned coach sales, NFI Parts, financial solutions and customer care.

"We were pleased to attend Expo with our full team," said Brent Maitland, Vice President, Private Sector Sales and Marketing. "With the Canadian border now open, we were able to introduce customers to New Flyer leadership Chris Stoddart, President, North America Bus and Coach, and Scott Halbesma, Vice President of Customer Care."