01.05.22
In The News
Remembering John Madden's love of motorcoach travel
Published by Bus&Motorcoach News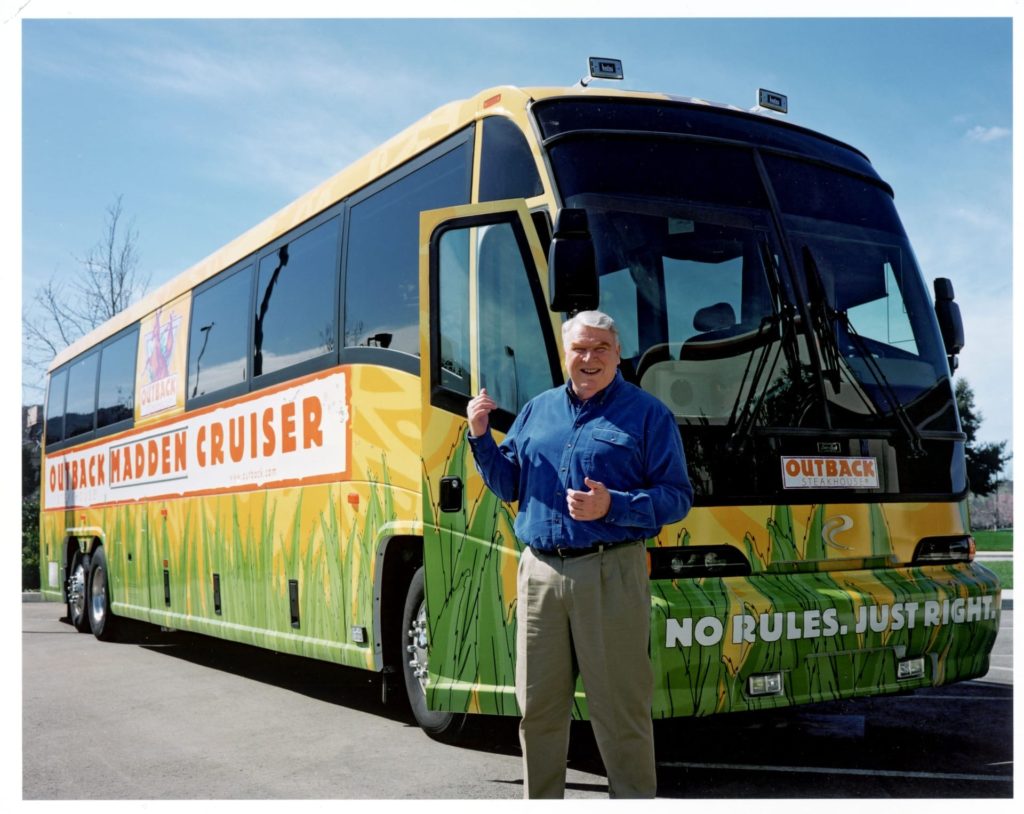 Most of the world is remembering John Madden as a legendary NFL player, coach, TV football analyst and video game entrepreneur.
Madden, who died Dec. 28, 2021, was also a foremost expert on the flexibility, comfort, and people power of motorcoach travel.
In a social media post, Motor Coach Industries (MCI) paid tribute to the sports icon's role in highlighting the benefits of motorcoach travel. For years, he served as the manufacturer's celebrity spokesman.
After Madden retired as head coach of the Super Bowl-winning Oakland (now Las Vegas) Raiders in 1977, a well-publicized aversion to flying would put him in the first of four MCI "Madden Cruisers" starting in 1987, according to the company.
80,000 miles a year
He traveled 80,000 miles a year via the luxury-appointed, satellite-connected MCIs to get to broadcast assignments and many memorable appearances for MCI. It was the only coach Madden would ever use. 
"I like to be in the best, and for me, that's MCI," Madden said in an MCI ad.
"He always made time for us at our customer appreciation events, sharing insights about NFL teams and entertaining stories about life on the road," said Patricia Ziska, MCI Vice President of New Coach Sales, who managed the Madden relationship through his retirement in 2009. "He appreciated our drivers and admired our business owners. He was one of us and a friend to our industry."
Madden – who at one time was dubbed the country's most famous bus passenger – signed Outback Steakhouse as a sponsor for his MCI conversion coach as the NFL broadcaster crisscrossed the country to travel to NFL games.
The restaurant chain promoted what it called MaddenMiles in 2007. For every mile Madden's coach travels during the NFL season, Outback Steakhouse donated $10 to the Juvenile Diabetes Research Foundation and Muscular Dystrophy Association, reported Bus & Motorcoach News.
Drove his cruiser
He told Bus & Motorcoach News in 2005, that he once drove his MCI E4500 cruiser once in an empty stadium parking lot.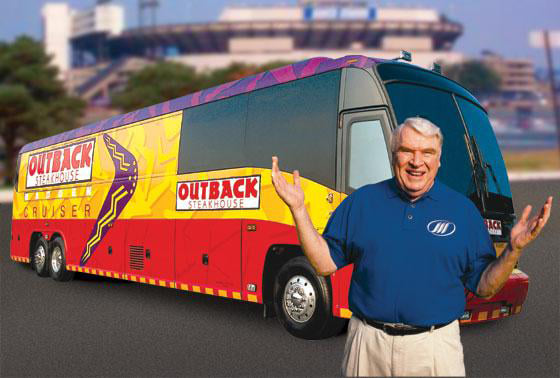 At an MCI event for operators in Rutherford, New Jersey in 2003, Madden took part in a Q&A event where he was candid about his love for his Madden Cruisers.
When asked what he liked about his MCI motorcoaches, Madden answered with one word: "Everything," pausing and adding, "there is nothing bad about the cruiser."
The exchange described in a Bus & Motorcoach story noted that after Madden spent another minute extolling the virtues of the cruisers he has used over the years, he came up with one of his colorful analogies that seems to fit most over-the-road buses.
"They're like old linemen," he said. "They're solid up-front. They just remind me of an offensive lineman."