02.15.23
In The News
Customer's Relationships Fuel MCI's 90-year Evolution
Published by METRO Magazine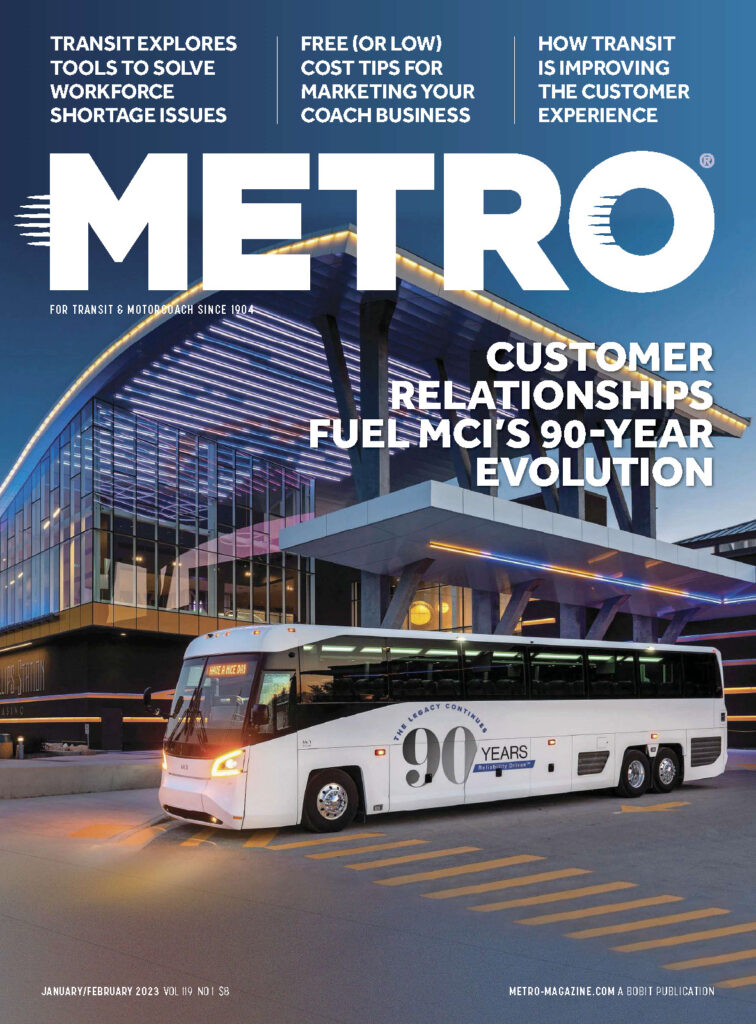 Having spent years fostering close ties with its customers, who have in turn helped the company improve its products along the way, MCI begins heading toward its centenary with a focus on sticking to its core values and continuing to innovate.
Whether it's levi's, Ford's Mustang, or the #2 pencil, some brands' reputations are built to last. Building and maintaining a brand is not easy and nobody knows that more than MCI, which marks its 90th anniversary this year.
However, when looking at some of the keys to MCI's success, it seems easy — build a safe and reliable cornerstone vehicle, forge and nurture relationships with your customer base, and show the flexibility to continue to innovate and grow your product line as technology evolves.
"I've been with MCI since 1976, so I have seen many milestones reached from decade to decade. Reflecting on that, I think advancements in technology have allowed us to make the progression that we have, as well as those alliances that we have had with our engine and transmission manufacturers," explains Pat Ziska, who is set to retire in February as VP, private sector sales, after 46 years with the company.
Tom Wagner, who is replacing Ziska as VP, private sector sales, concurs. "I haven't been around as long as Pat, but whether it's the necessity to lower emissions through clean diesel, CNG, hybrid, battery-electric buses, and in the not-too-distant future fuel-cell coaches, there have been a lot of changes to the technologies we work with over the last couple of decades that I've been at MCI, and our ability to adapt has been huge," he says.
BUILDING A BRAND
MCI's product line has evolved over the years, adapting to the changing technologies and the needs of its customer base in the motor coach industry. While the technologies have helped shape the modern coaches the company and its peers make today, MCI's strong industry presence has helped it keep its ear to the ground, so to speak, on the needs and desires of its motor coach industry partners.
"Trade shows have been a great place for us to get all sorts of feedback on our products, which is why we always have such a broad team attend UMA's Expo, ABA's Marketplace, and other shows throughout the year," says Brent Maitland, VP, private sector sales and marketing, at MCI.
"Over the years, we've used that customer engagement to update our vehicles, whether it be changing a component because it fails too frequently, making design changes to increase driver or passenger comfort, or testing different engines. No matter the suggestion, we always listen to them and might not implement every change they request, but we do prioritize the ones that are going to have the biggest impact on our customers."
Ziska explains that those relationships were forged by MCI in the 1970s and 80s when motor coach travel was the preferred mode because traveling by plane was still too expensive.
"Because the motor coach was the preferred way to travel, it meant that operators like Greyhound, Peter Pan, and the Trailways Network were able to offer a better product and their companies were able to grow based on the passenger and driver safety and comfort we were able to provide in our coaches. At that time, we couldn't build them fast enough," says Ziska. "Having close relationships with those large operations then, helped us understand that we needed to continue to work with our customers, continually improving the engineering of our vehicles, and thus, enhancing the product. That's how we really built our market share…the personal touch." Internally, Maitland says the key to building the brand has been keeping the team trained on the product, as well as informed of the feedback that is gathered through the one-on-one interactions with operators. MCI also always stresses putting the customer first.
"In terms of training and coaching our teams, the philosophy we use is 'One Team,'" he explains. "The philosophy has changed over the years, whether it be MCI One or One Team, but the point is that we own the problem we're dealing with and always go the extra mile to solve the issue as a team. Consistently."
Reaching the 90-year milestone, I would think the core values and processes that have made us successful will stay in place, which includes valuing our customers and those relationships, as well as the technical and aftermarket support we offer them," says Pat Ziska New Coach Sales Vice President, Private Sales, MCI.