12.17.21
In The News
MCI featured in the December edition of National Bus Trader Magazine
Published by National Bus Trader
NFI and MCI Receive 173-Bus Order from New Jersey Transit
NFI Group Inc. (NFI or the company), a leading independent bus and coach manufacturer and a leader in electric mass mobility solutions, on October 25 announced that the New Jersey Transit Corporation (NJ Transit) has exercised options for 118 D4500 clean diesel commuter coaches, in its final year of an existing six-year contract (originally announced in 2015) with NFI subsidiary Motor Coach Industries (MCI). The order was converted from NFI's backlog. Earlier this year, NJ Transit also exercised and received delivery of additional options for 30 MCI D4500 commuter coaches and 25 clean-diesel, 60-foot, New Flyer Xcelsior® heavy-duty transit buses) 50 equivalent units or EUs).
The orders propel NJ Transit's fleet revitalization plan, replacing older, end-of-life vehicles and enhancing the passenger experience in the New Jersey community. NJ Transit is America's third-largest public transit agency, connecting New Jersey, New York and Philadelphia and providing nearly 270 million passengers trips every year. "NFI continues to deliver the most advanced technology and proven transit platforms available in North America," said Paul Soubry, President and Chief Executive Officer, NFI. "With unmatched quality, industry-leading accessibility, lifetime service and support and reliability through the most demanding environments, our buses and coaches provide efficient transportation for cities that need mobility solutions at scale."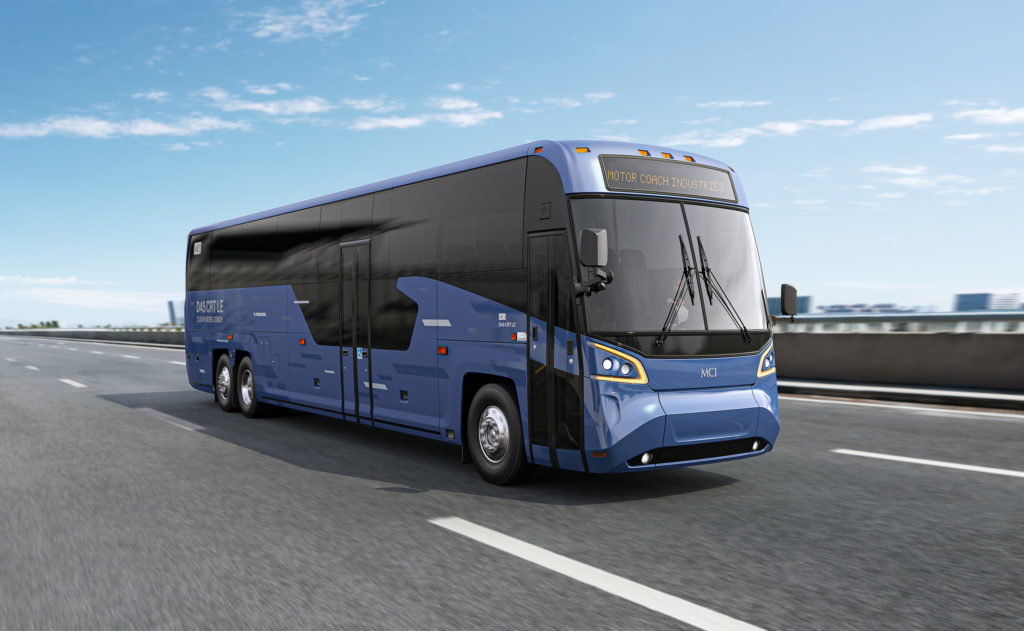 SC Coach's New MCI Limo Coach
SC Coach, the largest chauffered transportation provider in the Carolinas, is proud of their new MCI J4500 that brings the limousine ambiance to coach operations. The story behind this goes back to 2000 when Jeff Canady founded CLT Express Livery with a single sedan. They obviously did things right because today they operate more than 85 vehicles. In 2015 they acquired Busy Bee Coach and got into the coach business. The company was soon rebranded as SC Coach, and the existing coach fleet was traded in on their first MCI J4500 coaches.
In 2020, the company began looking for a coach that could provide the same feel as a limousine. MCI brought over a demo unit that became number 1207 in the SC Coach fleet. They tested the coach with a six-month lease and then purchased it in October. It was the ninth J4500 in the SC Coach fleet and was soon followed by a 10th J4500.
Maintenance Manager Jon Furtado says, "This new J4500 ties us back to our roots, truly bringing the limousine feel into the coach industry. With more than 70 sedans, SUVs, executive vans and mini-coaches on our limo side, you can feel the similarities as soon as you board the coach. From the leather seating to the mood lighting, to the exceptional ride quality, no other manufacturer can beat the luxurious feeling of an MCI."
Canady mentions, "The customer service we received through the process was exceptional and made the sale simple and easy during a rocky time in the industry. This J4500 truly sets the bar for ground transportation in our area, and I could not be prouder to brand it with our logo." The regular driver assigned to the coach, Dustin Robinson, added his comments: "When they say Reliably Driven, they mean it. Almost every day I'm behind the wheel of this coach and I've yet to find a feature, or in better words, lack of a feature, that I dislike. To pick a favorite feature, I'd have to say the mood lighting. When a team or group boards the coach and they see their colors, it takes it from another bus ride to a feeling of its their own team coach. From the ride quality to the comfort aspect, I love being behind the wheel of an MCI."
Furtado adds his input from the maintenance standpoint, "This J4500 is the seventh brand new coach we've purchased this year. Running the most monthly miles in our fleet and only seeing it in the shop for routine services, inspections and tires says a lot compared to other new coaches with various other issues after delivery. From reliability to parts availability, to some of the best tech support in the industry, MCI makes a great product and stands behind it every step of the way."
MCI Academy Gets Fifth ATMC Training Award
NFI Group Inc. (NFI and the company), a leading independent bus and coach manufacturer and a leader in electric mass mobility solutions, on November 5 announced that its subsidiary Motor Coach Industries (MCI) has received an ASE Training Managers Council (ATMC) National Excellence in Training Award. The MCI Academy, an NFI center for training and workforce development, secured the 2021 first place Grand Award for its Motorcoach Technician Certificate Program with a score of 498 out of a possible 500.
This marks the fifth consecutive time the MCI Academy has earned the award, and the only time a recipient has won five times.
The MCI Academy is one of NFI's award-winning training centers, providing high-quality training and workforce development in the motorcoach industry for all levels of technicians through online courses, classroom sessions, written tests and practical skills demonstration. "In 2020 alone, the MCI Academy saw 30,000 courses completed, driven by nearly 20,000 active users taking in 670 courses focused on the facilitation of reskilling and upskilling for the motorcoach industry," said Paul Soubry, President and Chief Executive Officer, NFI. "It is clear the MCI Academy is meeting a critical industry need for advanced workforce development through the new mobility era. We are incredibly proud to not only provide classroom, online and on-the-job training, but to see the caliber of our programs recognized for the fifth year in a row."
MCI's first submission to the national Excellence in Training Award occurred in 2017, where it was named a winner and has been every year since. Each year, three awards are given for Excellence in Training, with one Grand Award given to first place.
The MCI Academy's Grand Awards include:
• 2017: HVAC 101 (an HVAC Specialist Program)
• 2018: ELECT 401 (an Electrical Specialist program)
• 2019: Motorcoach Technician Apprenticeship Program
• 2020: High Voltage Safety
• 2021: Motorcoach Technician Certificate Program.

The MCI Academy's Motorcoach Technician Certificate Program was recently leveraged by NFI in the development of subsidiary New Flyer's Electrical Technician Training Program, which was announced in October 2021 and aims to provide employees with knowledge and skills to continue leading and supporting zero-emission adoption across North America.
As an enabler of workforce development – one of four pillars in NFI's mobility solutions offering – MCI Academy training equips motorcoach professionals with knowledge and skills to maintain, diagnose and repair systems on MCI coaches to maximize on-road time, passenger safety and operator profitability, To learn more, visit mciacademy.com.