02.01.23
In The News
MCI Delivers Its First Zero-Emission J4500 CHARGE™ Coaches
Published by National Bus Trader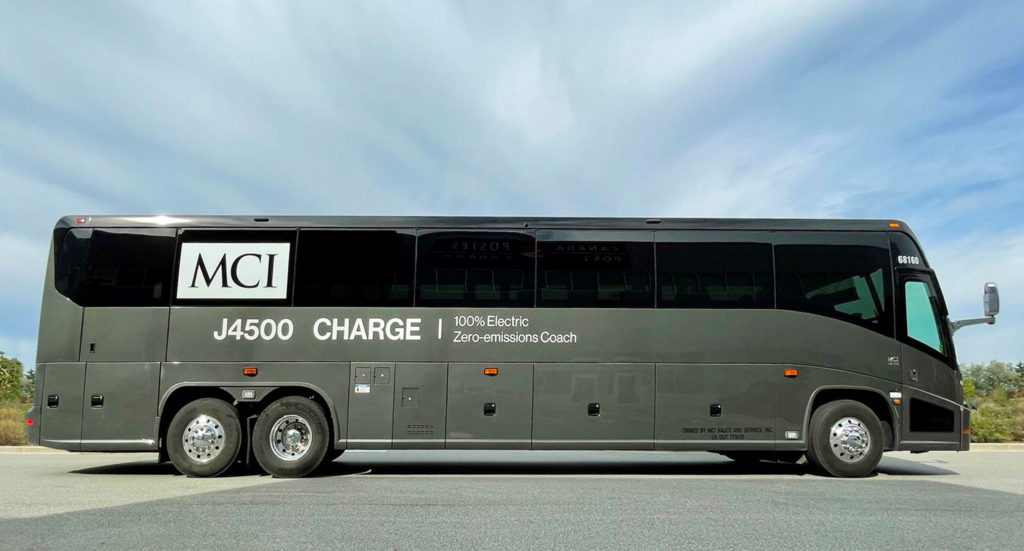 Motor Coach Industries (MCI), a subsidiary of NFI Group Inc. (NFI), a leading independent bus and coach manufacturer and a leader in electric mass mobility solutions, announced on December 19 that it has delivered its first battery-electric J4500 coaches in North America, with two batteryelectric, zero-emission J4500 CHARGE™ 45-foot coaches going to a California Bay Area operator.
The battery-electric, zero-emission luxury coaches feature spacious interiors with industry-leading legroom and will complement clean-diesel models in the California Bay Area employee shuttle market. Technology companies in the Bay Area first introduced employee commuting in the late 1990s to offer alternative commuter options to supplement local public transportation.
"MCI is proud to deliver our first battery-electric J4500 CHARGE coaches to the Bay Area employee shuttle market," said Brent Maitland, vice president, sales and marketing, MCI. "This growing market continues to advance employee transportation, making commuter shuttle service even more environmentally-friendly, inviting and comfortable. The employee shuttle market is an excellent application for MCI's EVs as their range covers the length of the shuttle service routes and does not require a large amount of baggage bay space. MCI has rigorously tested J4500 CHARGE coach for this business segment throughout locations in the U.S. and Canada to ensure its high performance
for our customers."
Introduced in 2021, the J4500 CHARGE is a zero-emission version of the industry's best-selling J series tour and charter luxury coach. Powered by American-made, highenergy batteries, the J4500 CHARGE leverages EV technology from New Flyer and delivers a range of more than 230 miles (544 kWh) on a single charge.