07.20.23
Press Releases
MCI delivers 3 zero-emission J4500 CHARGE™ coaches to Roberts Hawaii, marking the first in the US tour and charter travel market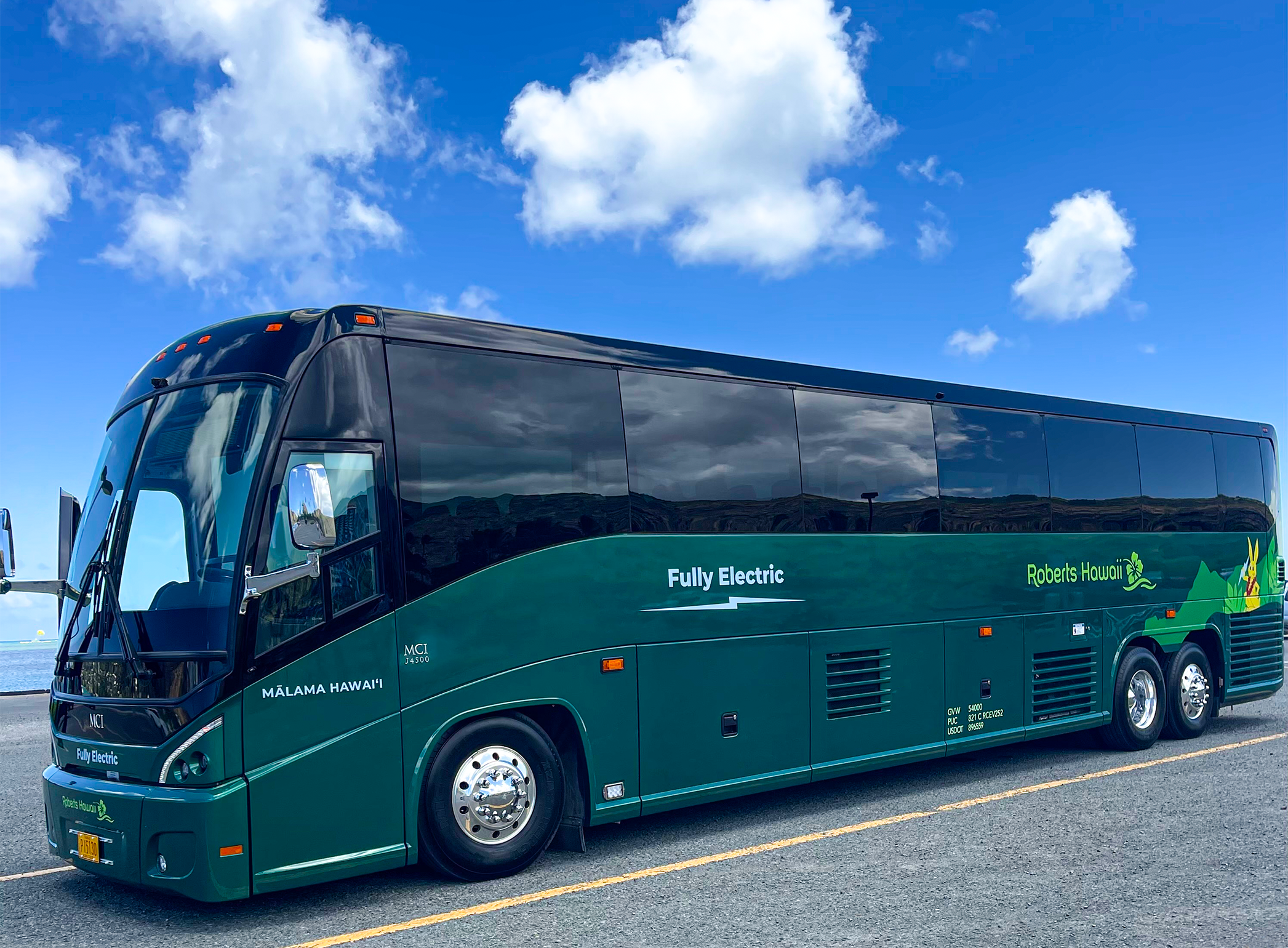 Des Plaines, Illinois, USA – July 20, 2023: (TSX: NFI, OTC: NFYEF, TSX: NFI.DB) Motor Coach Industries ("MCI"), a subsidiary of NFI Group Inc. ("NFI"), and North America's motor coach leader backed by reliable in-field technical expertise, 24/7 roadside assistance and parts support, announced today the delivery of three zero-emission, battery-electric MCI J4500 CHARGE™ coaches to Roberts Hawaii, the largest transportation provider in the 50th state. Roberts Hawaii is the first US operator to run the MCI J4500 CHARGE™ zero-emission coaches in tour and charter operations.
The 45-foot, 56-passenger luxury coaches are equipped with modern passenger amenities, and high-tech safety features, including a 360° camera system, and American-made, high-energy batteries. Supported by funding from the Hawaii State Energy Office and the Hawaii Department of Health through the Diesel Replacement Rebate Program, Roberts Hawaii fully electric motor coaches help to meet the state's net-negative emissions targets and future-skills workforce development initiatives.
"Hawai'i has a long history of firsts when it comes to clean energy, so we are thrilled to assist Roberts Hawai'i to become the first operator in the country to use fully electric motor coaches for tour and charter operations," said Hawai'i State Chief Energy Officer Mark B. Glick. "The Diesel Replacement Rebate program administered by the Hawai'i State Energy Office is helping local businesses transition their fleets to clean, zero-emission options to reduce greenhouse gas emissions and meet the state's ambitious clean energy and climate goals."
With an 82-year history as the leader in transportation and tourism throughout the Islands, Roberts Hawaii sees the road to zero emissions as part of its continued legacy of innovation. "Technology is our future which is why we are investing in it now," said Roy Pfund, CEO of Roberts Hawaii. The company began its transformation to electric in the middle of the Coronavirus pandemic, applying for the state's competitive grants and building the infrastructure required for the change.
"It's a significant accomplishment to be the first to purchase and operate three new MCI J4500 electric motor coaches in Hawaii," continued Pfund. "We recognize and appreciate our state's energy office contributions, our employee owner's commitment to EV adoption, and MCI for its support and expertise in the entire electric vehicle implementation. It has been a challenging and time-consuming process, but the first coaches are finally here. Our goal is to continually adopt new vehicle technology to maintain our leadership position within the transportation industry."
Electric that goes the distance
Emission-free and luxuriously appointed, the MCI J4500 CHARGE is the electric version of the best-selling J4500 motor coach in North America, renowned for its reliability, state-of-the-art safety features and lowest cost of operation. It is the most predominant and popular model in Roberts Hawaii's fleet.
The electric model incorporates NFI's advanced technology for greater efficiency, and smooth handling, with next generation, high-energy batteries that deliver long-range, quiet highway driving.
"We are excited to showcase Roberts Hawaii's leadership in hitting another major milestone in the move to zero emissions," said Brent Maitland, Vice President of Private Sector Sales and Marketing, MCI. "We are thrilled they continue to rely on MCI, and we look forward to supporting them in providing reliable, comfortable, and energy-efficient transportation to their tour and charter passengers."
"Our longstanding relationship with Roberts Hawaii spans four decades," continues Maitland. "We are honored to be part of their expanding portfolio into zero-emission vehicles and appreciate their confidence in our product, parts, service, and support as they continue to transform transportation in Hawaii."
MCI's parent company of NFI, a leader in zero-emission mobility, with electric vehicles operating (or on order) in more than 130 cities in six countries. NFI offers the widest range of zero-emission battery and fuel cell-electric buses and coaches, and its vehicles have completed over 115 million EV service miles.
Today, NFI supports growing North American cities with scalable, clean, and sustainable mobility solutions through a four-pillar approach that includes buses and coaches, technology, infrastructure, and workforce development. NFI also operates the Vehicle Innovation Center ("VIC"), the first and only innovation lab of its kind dedicated to advancing bus and coach technology and providing workforce development. Since opening in late 2017, the VIC has hosted over 350 interactive events, welcoming 7,000 industry professionals for EV and infrastructure training.
The next level of travel
Roberts Hawaii will first launch the electric models in its city guided tours to the USS Arizona Memorial, Pearl Harbor, and will make the coaches available to charter services.
To distinguish its electric coaches from others, an exterior coach decal depicts Roberts Hawaii's iconic bunny holding an electric bolt. "It communicates we are adapting with the times," says Randy Baldemor, Executive Vice President, Roberts Hawaii. "The phrase Malama Hawai'i – meaning to take care of Hawaiʿi – is also placed on the entrance door and rear panel, conveying our commitment to protecting Hawaiʿi's environment through these and other similar investments in the future."
About Roberts Hawaii
Roberts Hawaii began serving the tourism industry on Kauai in 1941. Today, Roberts Hawaii is the state's largest employee-owned company that serves individual visitors, travel agents, meeting planners, destination management companies and escorted tour providers on Oahu, Maui, Kauai, and the Big Island of Hawai'i, with airport shuttle services, personalized sightseeing tours and excursions. Roberts Hawaii operates a fleet of more than 900 vehicles, including zero-emission, battery-electric transit and school buses. Learn more at: www.robertshawaii.com
About MCI
MCI is North America's public and private market motor coach leader. Products include the luxury J Series (an industry best-seller for over a decade), the workhorse D Series, and the brand new zero-emission luxury and commuter coaches: the battery-electric J4500 CHARGE™, D45 CRT CHARGE™ and D45 CRT LE CHARGE™. MCI also provides maintenance, repair, 24-hour roadside assistance, parts, and technician training through the industry's only Automotive Service Excellence ("ASE") accredited and award-winning MCI Academy.
About NFI
Leveraging 450 years of combined experience, NFI is leading the electrification of mass mobility around the world. With zero-emission buses and coaches, infrastructure, and technology, NFI meets today's urban demands for scalable smart mobility solutions. Together, NFI is enabling more livable cities through connected, clean, and sustainable transportation.
With 7,700 team members in ten countries, NFI is a leading global bus manufacturer of mass mobility solutions under the brands New Flyer® (heavy-duty transit buses), MCI® (motor coaches), Alexander Dennis Limited (single and double-deck buses), Plaxton (motor coaches), ARBOC® (low-floor cutaway and medium-duty buses), and NFI Parts™. NFI currently offers the widest range of sustainable drive systems available, including zero-emission electric (trolley, battery, and fuel cell), natural gas, electric hybrid, and clean diesel. In total, NFI supports its installed base of over 100,000 buses and coaches around the world. The Shares are traded on the Toronto Stock Exchange under the symbol NFI and NFI's convertible unsecured debentures trade on the Toronto Stock Exchange under the symbol NFI.DB. News and information is available at www.nfigroup.com, www.newflyer.com, www.mcicoach.com, www.nfi.parts, www.alexander-dennis.com, www.arbocsv.com, and www.carfaircomposites.com.
Forward-Looking Statement
This press release may contain forward-looking statements relating to expected future events and financial and operating results of NFI Group that involve risks and uncertainties. Although the forward-looking statements contained in this press release are based upon what management believes to be reasonable assumptions, investors cannot be assured that actual results will be consistent with these forward-looking statements, and the differences may be material. Actual results may differ materially from management expectations as projected in such forward-looking statements for a variety of reasons, including market and general economic conditions and economic conditions of and funding availability for customers to purchase buses and to purchase parts or services; customers may not exercise options to purchase additional buses; the ability of customers to suspend or terminate contracts for convenience; production may be delayed or production rates may be decreased as a result of the pandemic or ongoing and future supply chain disruptions and shortages of parts and components, shipping and freight delays, and disruption to labor supply; and the other risks and uncertainties discussed in the materials filed with the Canadian securities regulatory authorities and available on SEDAR at www.sedar.com.
Due to the potential impact of these factors, the NFI Group disclaims any intention or obligation to update or revise any forward-looking statements, whether as a result of new information, future events or otherwise, unless required by applicable law.
For media inquiries, please contact:
Amanda Wanke
P: 515.474.1704
[email protected]
For investor inquiries, please contact:
Stephen King
P: 204.224.6382
[email protected]