09.29.22
Press Releases
MCI Academy welcomes back in-person classes and announces its ASE 5-year recertification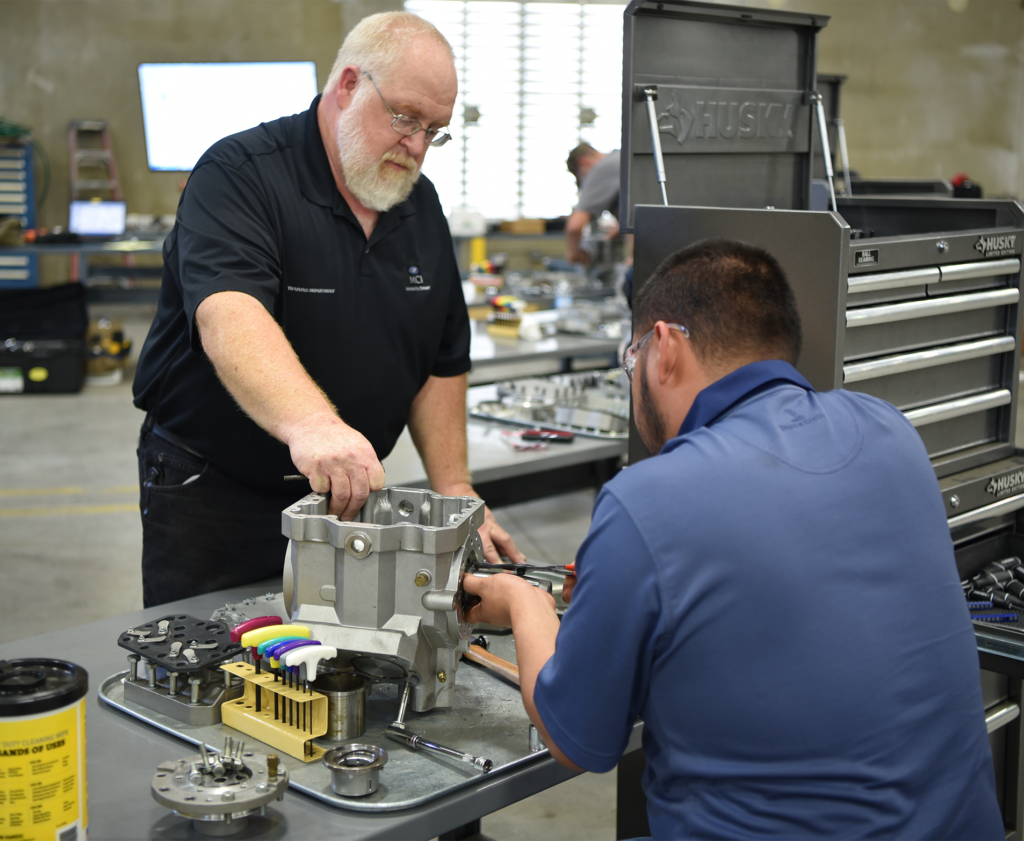 Des Plaines, Illinois, USA – September 29, 2022: (TSX: NFI, OTC: NFYEF, TSX: NFI.DB) Motor Coach Industries ("MCI"), a subsidiary of NFI Group Inc. ("NFI"), and North America's motor coach leader backed by reliable in-field technical expertise, 24/7 roadside assistance, and parts support, today announced the reopening of MCI Academy in-person classes at the National Training Center in Louisville, Kentucky.
As the only motor coach industry training institution to earn the Automotive Service Excellence ("ASE") accreditation and one of NFI's centers for training and workforce development, MCI Academy is proud to continue providing its no-cost training programs for all levels of technicians with in-person classes starting in October of 2022.
MCI Academy, a five-time award-winning training program, is committed to providing the highest quality training available in the motor coach industry for all levels of technicians using online courses, classroom sessions, written tests and practical skills demonstration. MCI Academy's comprehensive educational program will equip motor coach professionals with the knowledge and skills to maintain, diagnose, and repair systems on MCI motor coaches to maximize on-road time, passenger safety, and operator profitability.
2022 In-person class schedule:
With its ASE recertification completed in September of 2022, ASE accreditation of the MCI Academy training program has been extended to 2027. MCI Academy students can earn all three Technician Certificates and complete two Specialist Diploma programs to become MCI Master Technicians. For more details about the programs, visit mciacademy.com.
"Workforce development is a priority for MCI and its customers. Developing skilled coach techicians is critical for our operators and important to recruiting and retaining talent, and MCI Academy is meeting that critical industry need," said Brent Maitland, Vice President, Private Sector Sales and Marketing. "We are not only proud to welcome students back to the classroom, but also very excited to have our program be accredited by Automotive Service Education for another five years to continue providing the industry's premier training program."
MCI Academy may add additional sessions to meet the growing demand for its educational program. The 2023 class schedule will be available soon on mciacademy.com. To register for an MCI Academy program or to be included on a class waitlist, please contact MCI Academy by email or call (214) 208-6608.
About MCI
MCI is North America's public and private market motor coach leader. Products include the luxury J-Series (an industry best-seller for over a decade), the workhorse D-Series, and the brand new zero-emission luxury and commuter coaches: the battery-electric J4500 CHARGE™, D45 CRT CHARGE™ and MCI D45 CRT LE CHARGE™. MCI also provides maintenance, repair, 24-hour roadside assistance, parts, and technician training through the industry's only Automotive Service Excellence ("ASE") accredited and award-winning MCI Academy.
About NFI
Leveraging 450 years of combined experience, NFI is leading the electrification of mass mobility around the world. With zero-emission buses and coaches, infrastructure, and technology, NFI meets today's urban demands for scalable smart mobility solutions. Together, NFI is enabling more livable cities through connected, clean, and sustainable transportation.
With 7,500 team members in nine countries, NFI is a leading global bus manufacturer of mass mobility solutions under the brands New Flyer® (heavy-duty transit buses), MCI® (motor coaches), Alexander Dennis Limited (single and double-deck buses), Plaxton (motor coaches), ARBOC® (low-floor cutaway and medium-duty buses), and NFI Parts™. NFI currently offers the widest range of sustainable drive systems available, including zero-emission electric (trolley, battery, and fuel cell), natural gas, electric hybrid, and clean diesel. In total, NFI supports its installed base of over 105,000 buses and coaches around the world. NFI's common shares trade on the Toronto Stock Exchange ("TSX") under the symbol NFI and its convertible unsecured debentures trade on the TSX under the symbol NFI.DB. News and information is available at www.nfigroup.com, www.newflyer.com, www.mcicoach.com, www.nfi.parts, www.alexander-dennis.com, www.arbocsv.com, and www.carfaircomposites.com.
Forward-Looking Statement
This press release may contain forward-looking statements relating to expected future events and financial and operating results of NFI Group that involve risks and uncertainties. Although the forward-looking statements contained in this press release are based upon what management believes to be reasonable assumptions, investors cannot be assured that actual results will be consistent with these forward-looking statements, and the differences may be material. Actual results may differ materially from management expectations as projected in such forward-looking statements for a variety of reasons, including market and general economic conditions and economic conditions of and funding availability for customers to purchase buses and to purchase parts or services; customers may not exercise options to purchase additional buses; the ability of customers to suspend or terminate contracts for convenience; production may be delayed or production rates may be decreased as a result of the pandemic or ongoing and future supply chain disruptions and shortages of parts and components, shipping and freight delays, and disruption to labor supply; and the other risks and uncertainties discussed in the materials filed with the Canadian securities regulatory authorities and available on SEDAR at www.sedar.com.
Due to the potential impact of these factors, the NFI Group disclaims any intention or obligation to update or revise any forward-looking statements, whether as a result of new information, future events or otherwise, unless required by applicable law.
For media inquiries, please contact:
Melanie McCreath
[email protected]
For investor inquiries, please contact:
Stephen King
P: 204.224.6382
[email protected]