08.09.22
In The News
Hawkeye Stages Gets Four MCI J4500 Coaches
Published by National Bus Trader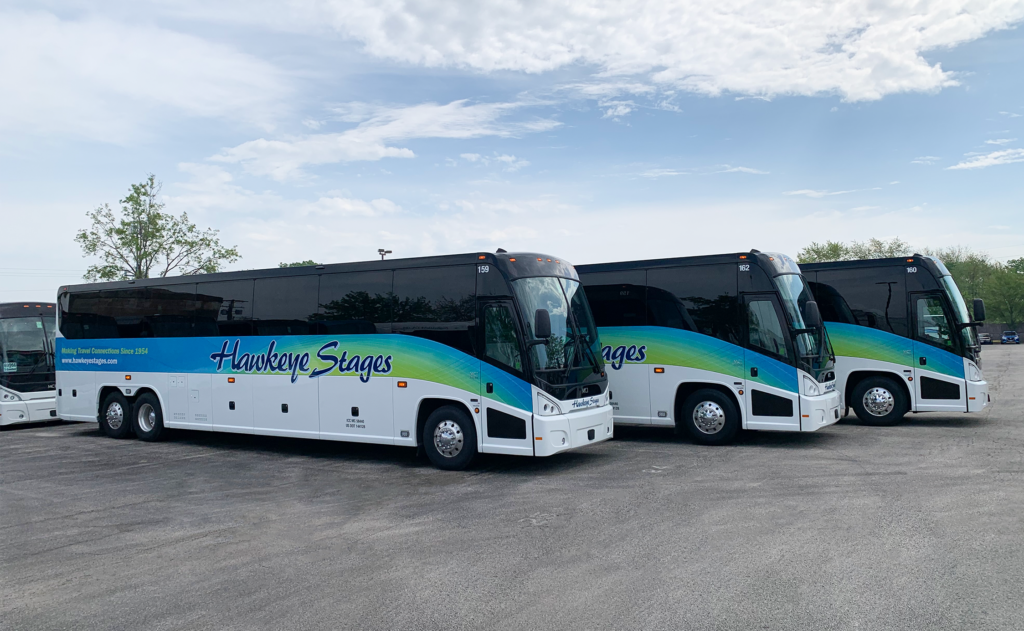 Motor Coach Industries (MCI), a subsidiary of NFI Group Inc. (NFI), a leading independent bus and coach manufacturer and a leader in electric mass mobility solutions, on July 12 announced its delivery of four luxury J4500 clean-diesel 45-foot motor coaches to Hawkeye Stages.
Hawkeye Stages, an industry leader in group transportation for more than 60 years, provides transportation services across the United States and Canada, operating a fleet of luxury motor coaches and charter buses.
The new J4500 coaches are tailored to the Hawkeye Stages' requirements, featuring Amaya Sigma seating with custom fabric and defender coating, an REI safety video system, an enhanced sound system, rear window and custom graphics. By adding these customized luxury coaches to its existing fleet, Hawkeye Stages will provide customers with an unparalleled passenger experience, while delivering comfortable, safe and reliable transportation.
"NFI continues to provide beautiful and reliable coaches to Hawkeye Stages, having delivered at least 10 vehicles to Hawkeye Stages since 1996. Through this order, MCI has once again demonstrated flexibility in meeting unique customer requirements to deliver fully customized vehicles," said Brent Maitland, Vice President, Private Sector Sales and Marketing, MCI. "Hawkeye Stages' passengers will benefit from these state-of-the-art, spacious coaches with the best-in-class legroom available in the market."