11.04.22
In The News
D45 CRT – The New Zero-Emission, Battery-Electric, High-Floor Commuter Transit Coach
Published by National Bus Trader
NFI Group Inc. (NFI), a leading independent bus and coach manufacturer and a leader in electric mass mobility solutions, on September 28 announced that its subsidiary Motor Coach Industries (MCI) has unveiled its new zero-emission, battery-electric, high-floor commuter coach – the D45 CRT CHARGE™.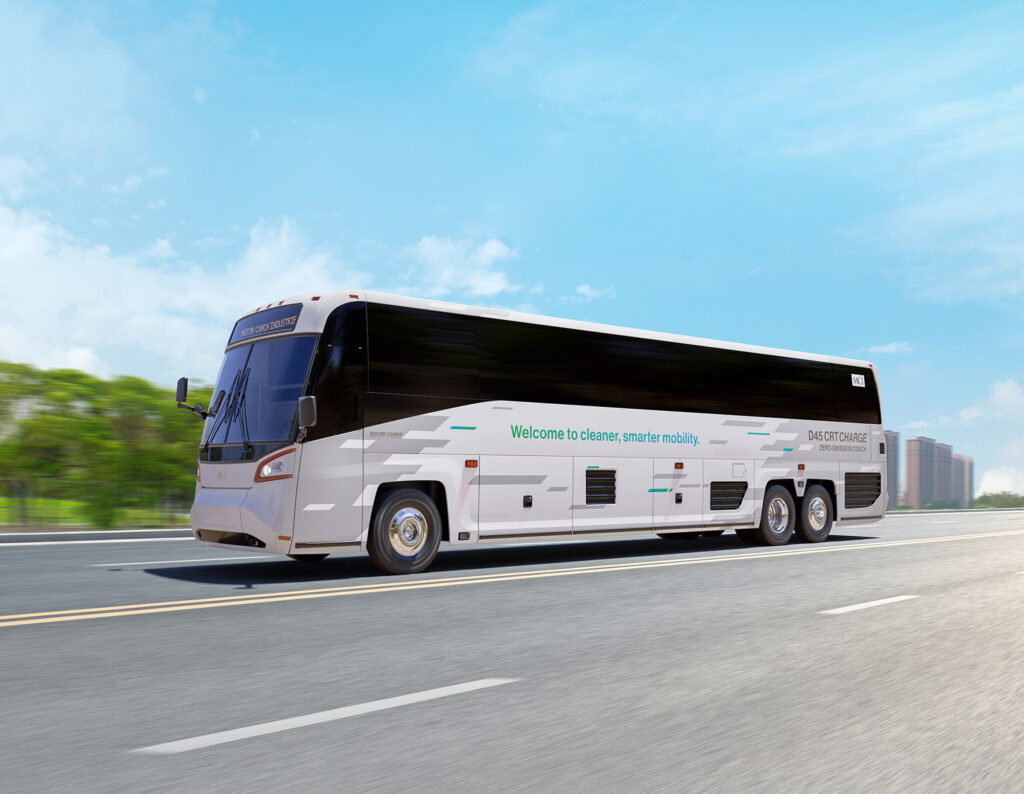 The D45 CRT CHARGE – a zero-emission version of the best-selling D45 Commuter Rapid Transit (CRT) series public transit coach – integrates proven CHARGE propulsion from New Flyer, including regenerative braking, and features design advancements of MCI's next generation D45 CRT commuter transit coaches, including enhanced reliability, efficiency and high performance.
"The D45 CRT CHARGE marks the eighth unique zero-emission bus (ZEB) NFI has introduced in the past two years. Our market-leading electric vehicle (EV) portfolio continues to expand, demonstrating NFI's undeniable leadership in the electrification of mass mobility," said Chris Stoddart, president, North American Bus and Coach, NFI.
"With electric drive components, MCI's smooth-riding suspension and real-time smart analytics on aboard, this fully accessible coach delivers an outstanding combination of performance and sustainability benefits to transit operators."
The Buy America-compliant D45 CRT CHARGE harnesses three high-performing technologies to deliver a more efficient and sustainable commuter vehicle, including a high-torque electric drive system delivering up to 90 percent energy recovery and designed to efficiently handle long-distance applications at highway speeds; next generation, high energy, long-range batteries delivering a range of more than 225 miles with 520 kWh of battery capacity and interoperable plug-in battery charging from empty to full in less than four hours.
"MCI continues to support North America's operators in transitioning to 100 percent zero-emission coach fleets, ultimately advancing their climate change action plans for a more sustainable future," said Jennifer McNeill, vice president of public sector sales and marketing, New Flyer and MCI. "The D45 CRT CHARGE will avoid the equivalent of approximately 80 metric tons of greenhouse gas emissions annually, delivering immediate emission reduction for more sustainable and healthier communities across North America."
The Buy America-compliant D45 CRT CHARGE comes with MCI's legendary quality and reliability, retaining the class-leading features of the D45 CRT series, known as workhorses in the public transit industry. Through common systems and production, a rugged stainless-steel frame for maximum durability, modern styling and optional 360- degree camera system and tire monitoring system, the D45 CRT series contributes to lower operating costs and provides an outstanding passenger experience during the entire life of the coach.