05.13.22
Press Releases
Allen Keith joins MCI as Private Market Regional Vice President
Keith to lead New and Pre-Owned Coach Sales in MCI's Northeast U.S. Region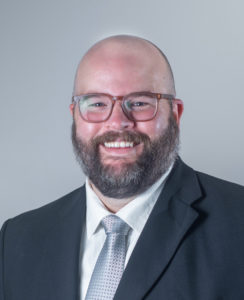 Des Plaines, Illinois, USA – May 13, 2022: (TSX: NFI, OTC: NFYEF, TSX: NFI.DB) Motor Coach Industries ("MCI"), a subsidiary of NFI Group Inc. ("NFI"), a leading independent bus and coach manufacturer and a leader in electric mass mobility solutions, today announced Allen Keith has joined MCI as Private Market Regional Vice President for New and Pre-Owned Coach Sales in the Northeast Region.
Based in Manchester, Connecticut, Allen is responsible for new coach and pre-owned coach sales to private operators in the Northeast region, including Maine, Massachusetts, Vermont, New Hampshire, Rhode Island, New York, New Jersey, Connecticut, Delaware, Maryland, Virginia, and Washington DC.
"Allen brings a wealth of sales experience to MCI and we are thrilled to welcome him to our team. Allen's record of accomplishments, both corporate and personal, demonstrates his commitment to building strong relationships and customer loyalty," said Patricia Ziska, Vice President, Private Market Sales, MCI. "Allen will be an exceptional leader the Northeast region, helping our private coach customers to expand and update their fleets with MCI's industry-leading products."
Allen brings 13 years of sales management experience to the MCI sales team, and joins the company following six years as Regional Parts Manager with NFI Parts™ – another NFI subsidiary.
During his career, Allen has excelled in developing new markets, establishing productive partnerships with coach fleet operators, and helping customers navigate challenges presented by the pandemic through effective management of parts procurement and introduction of new products.
MCI's battery-electric J4500 CHARGE™ and D45 CRT LE CHARGE™ coach models are part of NFI's comprehensive zero-emission mobility offering. NFI is a leader in zero-emission mobility, with electric vehicles operating (or on order) in more than 80 cities in six countries. NFI offers the widest range of zero-emission battery and fuel cell-electric buses and coaches, and its vehicles have completed over 65 million EV service miles.
Today, NFI supports growing North American cities with scalable, clean, and sustainable mobility solutions through a four-pillar approach that includes buses and coaches, technology, infrastructure, and workforce development. NFI also operates the Vehicle Innovation Center ("VIC"), the first and only innovation lab of its kind dedicated to advancing bus and coach technology and providing workforce development. Since opening in late 2017, the VIC has hosted over 300 interactive events, welcoming 5,000 industry professionals for EV and infrastructure training.
About NFI
Leveraging 450 years of combined experience, NFI is leading the electrification of mass mobility around the world. With zero-emission buses and coaches, infrastructure, and technology, NFI meets today's urban demands for scalable smart mobility solutions. Together, NFI is enabling more livable cities through connected, clean, and sustainable transportation.
With 7,500 team members in nine countries, NFI is a leading global bus manufacturer of mass mobility solutions under the brands New Flyer® (heavy-duty transit buses), MCI® (motor coaches), Alexander Dennis Limited (single and double-deck buses), Plaxton (motor coaches), ARBOC® (low-floor cutaway and medium-duty buses), and NFI Parts™. NFI currently offers the widest range of sustainable drive systems available, including zero-emission electric (trolley, battery, and fuel cell), natural gas, electric hybrid, and clean diesel. In total, NFI supports its installed base of over 105,000 buses and coaches around the world. NFI's common shares trade on the Toronto Stock Exchange ("TSX") under the symbol NFI and its convertible unsecured debentures trade on the TSX under the symbol NFI.DB. News and information is available at www.nfigroup.com, www.newflyer.com, www.mcicoach.com, www.nfi.parts, www.alexander-dennis.com, www.arbocsv.com, and www.carfaircomposites.com.
About MCI
MCI is North America's public and private market motor coach leader. Products include the luxury J-Series (an industry best-seller for over a decade), the workhorse D-Series, and the brand new zero-emission luxury and commuter coaches: the battery-electric J4500 CHARGE™ and MCI D45 CRT LE CHARGE™. MCI also provides maintenance, repair, 24-hour roadside assistance, parts, and technician training through the industry's only Automotive Service Excellence (ASE) accredited and award-winning MCI Academy.
For media inquiries, please contact:
Lindy Norris
P: 320.406.3386
Lindy_Norris@newflyer.com
For investor inquiries, please contact:
Stephen King
P: 204.224.6382
Stephen.King@nfigroup.com